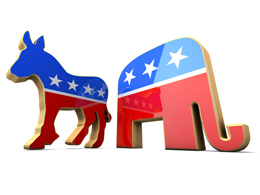 The Indiana primaries giveth, and the Indiana primaries taketh away.
On the one hand, after Donald Trump's victory there pushed both Ted Cruz and John Kasich out of the race, we now know who the Republican nominee will almost certainly be. On the other hand, Bernie Sanders's victory extends the Democrats' primary process further. Although Hillary Clinton remains the overwhelming favorite, that race isn't over yet.
Click the photo to see the full article.