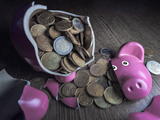 Student loan debt has increased dramatically in recent years, and as graduates reportedly struggle to find jobs, there's growing concern about the role these loans might play in the next financial crisis. The fear is that a systemic default could rock the financial system, much as subprime mortgage defaults did.
Do we really have a systemic problem on our hands? And just how great is the risk? Let's take a look at the underlying data.
Click the photo to see the full article.